Press

Growing Up With Jazz: Twenty-Four Musicians Talk About Their Lives and Careers
Oxford University Press
By W. Royal Stokes
Published March 2005
| | |
| --- | --- |
| | Celebrated author and music critic W. Royal Stokes latest release on Oxford University Press, "Growing Up With Jazz" contains profiles of twenty-four jazz musicians, including saxohonists Carol Sudhalter, George Botts, Claire Daly, John Firmin, Howard Johnson, and Britisher Ray Gelato; clarinetists Don Byron and Evan Christopher; singers Jane Monheit, René Marie, Lisa Sokolov, Nora York, Netherlands-based Oklahoma native Shaunette Hildabrand, and the late Pam Bricker; pianists Billy Taylor, Armen Donelian, Patrizia Scascitelli, René van Helsdingen, and Uri Caine; bassist Leonard Gaskin; drummer Art Blakey; guitarist Monnette Sudler; Indonesian violinist Luluk Purwanto; and Umbria Jazz festival producer Carlo Pagnotta. |



Our Picks: Pam Bricker
Nightlife (Weekend's Best)
Washington Post Weekend
By Eric Brace
Friday, September 8, 2000
Pam Bricker is one of the finest and most versatile singers I've ever heard, sliding through jazz, pop, Brazillian, standards, lounge and techno with masterful ease. The long wait for a new Bricker CD is over, and the local singer celebrates the release of U-topia with a show Monday at U-topia (202/483-7669), the U Street club that's the CD's namesake, on account of Bricker's long-standing Sunday night gig there.



UTOPIA, Pam Bricker (Backstreet Records)
By Mike Joyce
Washington Post
Friday, September 8, 2000
If jazz vocalist Pam Bricker sounds perfectly at home on her new release, perhaps that's because she is. Named after the U Street club where Bricker performs on Sunday nights, "U-topia" finds the recent Wammie winner collaborating with her trio mates, keyboardist Wayne Wilentz and drummer Jim West, in a cozy, uncluttered setting that serves both the singer and the songs well.
Anyone familiar with Bricker's impressive track record, as both solo artist and a member of the enterprising vocal ensemble Mad Romance, won't be surprised by the cool assurance that often distinguishes her performances here. While the repertoire is nothing if not diverse, embracing composers who made their mark in pop (Cole Porter), jazz (Charles Mingus), soul (Stevie Wonder), rock (Jimi Hendrix) and Brazilian music (Antonio Carlos Jobim), Bricker sounds as comfortable scatting through tricky harmonic schemes as when she's conjuring a sultry mood in English or Portuguese. If she hasn't lived with these songs a long time, she never lets on.
Among the stand out tracks are Bricker's supple rendering of Mingus's "Goodbye Porkpie Hat" (complete with Joni Mitchell's lyric), an unabashedly old-fashioned reprise of "I'm Getting Sentimental Over You" (featuring the singer's dad, Peter Bricker, on trombone), and a precise yet appropriately soaring reprise of Charlie Parker's "Ornithology," which gets an extra lift from Wilentz and West.



Washington City Paper
May 7, 1999
We were duly impressed by PAM BRICKER's performance at this year's WAMMIE Awards. Pam played a tribute to dearly departed Eva Cassidy, singing one of Eva's signature songs. A lesser artist might have refused to stand in such exalted shoes, but Pam accepted the honor with grace and aplomb & it was a heartfelt homage from one fine singer to another that frankly had us fairly choked up. There is a word for this, and that word is "class."



See Pammy reveal maybe a little too much about herself in the City Paper Pop Quiz from 1999. It's hysterical.



Pam Bricker: Tops on My List
By Eric Brace
Washington Post Staff Writer
Friday, May 29, 1998; Page N08
THERE ARE SOME local artists who perform with such frequency around town that they become part of the landscape. It's easy to take their shows for granted. I look at the club listings and see certain names over and over again and I say to myself, "I should check them out." The months roll past, and still I don't go see them.
Pam Bricker has been on my list. After finally seeing her several times over the last few weeks, I'm here to tell you: Go hear her sing. Bricker is (to use the parlance of the biz) a singer's singer. Her voice is her instrument, rather than just something that pleasantly puts across a melody. "I've never thought of myself as just a singer," says Bricker, who grew up in New Jersey and did some time in Massachusetts before landingin Washington in 1981. "My musical training was as an instrumentalist. I started on piano when I was 4, then clarinet when I was 9, and I was a serious student of clarinet all through high school."
You can still hear something of the reed player in her vocal phrasing and breathing, in the dead-accurate intervals, as if she's got a valve in her windpipe controlling her perfect pitch. When she tackles the jazz standards that make up the bulk of her current live repertoire, you can hear her subtly manipulate the familiar melodies just enough to keep them challenging. A frequent musical partner, guitarist Chuck Underwood, says you can't ever coast when playing with Bricker: "She'll sing a verse likes it's a horn solo, and she's counting on you to work with her. You have to react to her voice like it's another instrument on the bandstand. To me, she's Washington's own Betty Carter."
And while area listeners have gotten used to Bricker's jazzier performances, she is quick to point out that her vocal roots are in the folk/rock of singers like Joni Mitchell and Bonnie Raitt. "I just flipped when I first heard Joni Mitchell," Bricker says, "and of course I had to learn acoustic guitar." That led to years on the coffeehouse circuit as a singer-songwriter, then a couple of rock bands, then "I just melted down and took two years off," she says.
"When I landed in Northern Virginia, I started singing jazz, because I was attracted by the sophistication of the material, and I was lucky to be accepted by the jazz community in Washington. I've learned so much from the players in town." She's released four compact discs under her name (including a well-received disc of Dave Frishberg songs), and appears as guest vocalist on several other albums by area musicians. Her prolific performance schedule has recently gotten even busier, so you have fewer excuses to miss her.
For nearly four years, Bricker has performed every Sunday night at U-topia (1418 U St. NW; 202/483-7669) with pianist Wayne Wilentz and drummer Jim West. On Tuesdays, you'll find her at Bailey's (1100 Wayne Ave., Silver Spring; 301/495-4994) with saxophonist Marshall Keys and pianist Dan Reynolds, and two Thursdays a month (including this week) Bricker plays at Lewie's (6845 Reed St., Bethesda; 301/652-1600) along with guitarist Underwood and acoustic bassist Steve Zerlin. And on June 5, Bricker and Underwood play their monthly gig at Bullfeathers in Gaithersburg (9120 Rothbury Dr., 301/947-3734), where they showcase more pop material, including some of Bricker's original compositions.
"These are all small groups," says Bricker, "and it's always a challenge to make exciting presentations of the songs." She's comparing her three combos with Odyssey, a 10-piece variety band she sings with that gets booked at galas and weddings and helps pay the bills. "But no matter what kind of material I'm working with, I learn something about the music or about myself every single night I sing," says Bricker. "I'm always stretching the limits of what I think I can do with the music, and I'm still having a great time doing it."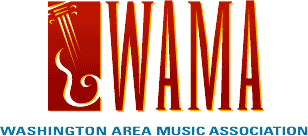 2001 Double "Wammie" Award Recipient
for Best Contemporary Jazz Vocalist, and
Best Jazz Recording, "Utopia"
---
For posthumous press, see Final Chorus
---
Updated February 19, 2013